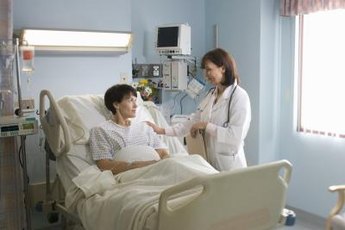 i
Thomas Northcut/Digital Vision/Getty Images
Nursing care is usually about helping patients get better. Unfortunately, for some patients that never happens. Chronic illnesses never go away, and the best a nurse can do is help patients manage their symptoms. That's called palliative care, and it helps patients maintain their quality of life. Hospice care is a specialized form of palliative care, focused on treating patients during the last months of their life. It's an emotional but rewarding branch of nursing practice.
Care Settings
You can practice hospice care almost anywhere, including freestanding hospice facilities, hospitals, nursing homes and in private residences. Some hospitals provide hospice facilities until patients can transition to home care, while others maintain a hospice wing or floor for patients too ill or close to death to be discharged. In 2011, about a quarter of all hospice patients received care in a nursing home or assisted-living facility, according to figures from the National Hospice and Palliative Care Organization. More than 40 percent received home hospice care, another 26 percent in a dedicated hospice facility and only 7 percent in regular hospitals.
Your Role
As a hospice nurse, your whole job revolves around keeping your patients physically comfortable and in good spirits. You'll work with their physician to help manage their pain medications and any other drugs necessary, watching for adverse reactions or breakthrough pain. You'll also help patients and their families develop coping strategies for their symptoms and physical condition, so patients can live as normal and independent lives as possible. By reducing the impact of their symptoms and relieving your patients of debilitating pain, your care can help patients live longer and in greater comfort.
Emotional Burden
Some patients and their families think of hospice care as conceding defeat and avoid making that decision as long as possible. The NHPCO's statistics show that the average patient benefited from fewer than 20 days' care in 2011. It's an emotional decision, and helping your patients and their families cope with death is also part of the job. Usually, you'll be able to call on other members of the care team, including psychiatrists, psychologists and counselors, to provide additional assistance if necessary.
Training and Career
Both registered nurses and licensed practical nurses can work in hospice care. Practical nurses treat patients whose condition is stable, usually under the supervision of an RN. RNs treat patients whose condition is more serious or variable and need a higher level of care. You can train as an LPN in one year, or as an RN in two to four years. You'll need to pass a national licensing examination and hold a state-issued nursing license before you can practice. If you choose to specialize in hospice care, you can earn professional certification by taking exams administered by the National Board for Certification of Hospice and Palliative Nurses.
References
Resources
Writer Bio
Fred Decker is a trained chef and certified food-safety trainer. Decker wrote for the Saint John, New Brunswick Telegraph-Journal, and has been published in Canada's Hospitality and Foodservice magazine. He's held positions selling computers, insurance and mutual funds, and was educated at Memorial University of Newfoundland and the Northern Alberta Institute of Technology.