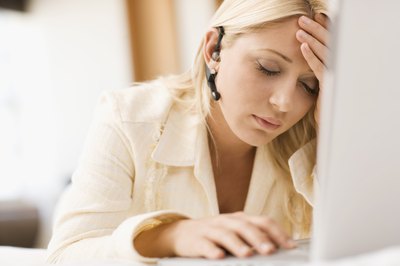 Do you often daydream about bolting out of your office and heading for the nearest exit, due to the stress of your job? You are not alone. Stress at work can make even the sanest and happiest of workers want to quit, when left unchecked. While some careers lend themselves to being more stressful than others, job stress can occur in any type of job.
Causes
Job stress can result from a variety of factors. For some, it's the pressure of working too many hours in a challenging work environment or from working with difficult people. For others, it's personal stressors caused by the daily grind of trying to find work and family life balance. Stress comes from many sources, but the way in which employees cope can differ from one person to the next. The Everest College 2012 Work Stress Survey revealed that 77 percent of a polled group of 1,000 working adults regularly experienced job stress; with financial matters, long commutes, unreasonable workloads and fear of being fired being the leading causes. Others are stressed by lack of advancement opportunities.
Magnitude
A Families and Work Institute study from 2008 highlighted the amount of stress that workers face, indicating that as many as one-third of employees suffer from stress-related problems on the job -- with 36 percent losing sleep over the stress they experience each day. On an average day, all employees experience some level of stress, whether it originates from external elements like rude customers or high-pressure tasks, or internal factors, such as lack of sleep, financial worries or illness. Stress has become a leading cause of poor workplace productivity, excessive absenteeism, and even workplace violence.
Evidence
There is evidence to indicate that serious or continual stress can cause otherwise happy and productive employees to quit their jobs. The American Psychological Association conducted a national poll of US workers in 2007, which revealed that nearly "three-quarters of Americans list work as a significant source of stress ... half stated that they did not use their allotted vacation time and even considered looking for a new job because of stress." This means that, over time, stressed out employees experience so much built-up anxiety that they simply decide to quit their jobs to escape.
Retaining Staff
As an employer, it's critical to recognize signs of employee stress, such as excessive tardiness, unexcused work absences, low morale and high turnover, and take steps to implement stress-reducing programs at work. This can help to increase retention and productivity with regular practice. One way to reduce workplace stress includes offering an Employee Assistance Program for employees to talk confidentially about their stress with a qualified counselor. Other ways to reduce employee stress can include fostering a culture that includes regular recognition for achievements, peer support, respect for all employees and an open communication policy.
Photo Credits
Jupiterimages/Brand X Pictures/Getty Images