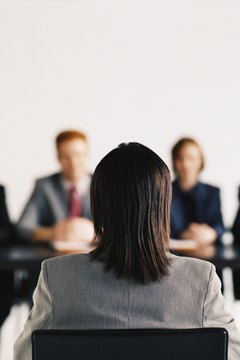 Employers save time by letting all the stakeholders in on one meeting, and a panel interview means they won't have to schedule multiple interviews. Distractions are more prevalent, however, with a number of egos and personalities in the room. The panel sees how you conduct yourself under pressure and, in turn, you can size up the internal culture that prevails by watching how the team interacts with each other and, according to CNN, how you might fit in with them.
Retrospectives from the Hot Seat
The person sitting in the hot seat has to be just as prepared, if not more so, than a candidate in a setting with a solo interviewer. That means preparing good questions for the panel. According to CNN, a question that asks panel members to tell you how they will know in six months that they've made the right decision provides a glimpse as to the priorities of the group and of each individual. When this question comes out near the beginning of the interview, you can frame many of your answers toward fulfilling those expectations.
General Overviews
Like one-on-one interviews, a panel will open with a general question that allows you to tell them about yourself. It's during this time that you can go over the executive duties you've undertaken in the past as well as focus on the leadership skills you've carefully honed over the years According to H Careers, you need to begin your answer facing the person who asked the questions and then look at each panel member in turn as you speak. At the same time, you should know who the big boss is so you can pay particular attention to her with extended eye contact.
Show Them How You Think
Knowing who's going to be on the panel prior to the interview and what the main agenda will consist of will help you prepare, according to Quintessential Careers. You'll know which departments will be present so you can give specifics that interest each of them. At the same time, you'll get a feel for how you'll interact with them as the new company executive. For example, an HR manager may ask how much weight you place on continuing education. If your research reveals this company is an industry leader in employee training, you could acknowledge the manager and assure her of your continued support in your executive role. Meanwhile, you could talk about how impressed you are with the state-of-the-art computer systems the firm uses to get the IT gal in your corner.
Watch the Watchers
Panel members watch you to see how you react and respond to questions, especially those that may be a little more controversial. While panel interviews often are treated as unbiased opportunities for open dialogue among a range of company insiders, that's often not really the case when there's a powerful leader heading up the team, according to author and talent manager Dr. John Sullivan at ERE.net. You'll notice that panel members often will turn to face the big boss to see how she's reacting to your responses. They usually take their cues from the boss, too. As an executive candidate, you need to assure the primary decision-maker that your breadth of knowledge includes a deep respect for her judgment. Express your ideas about the future of the company, but compliment the company at every juncture to assure the panel that you aren't planning on coming in and changing everything. You'll notice a visible sigh of relief when the panel members turn to see the big boss smiling at your acknowledgments.
Photo Credits
George Doyle/Stockbyte/Getty Images