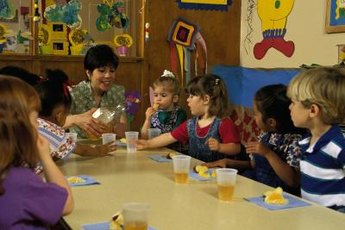 i
Comstock/Comstock/Getty Images
If the pitter-patter of little feet brightens your life, you can start your workday listening to them as a daycare staff member. Parents entrust you with the care, feeding and education of their little ones, and look to you for advice on child care. You can enter the daycare industry through one of four professions.
Child-Care Worker
To directly take care of children, you can become a child-care worker. Your activities range from changing the diapers of the very young, organizing games for older children, and making sure that all your charges have food, activities and naps throughout the day. Job requirements vary from no education to a high-school diploma, depending on the state. Some employers also require certifications in first aid and cardiopulmonary resuscitation, so you can effectively deal with any emergencies. Voluntary certification, such as from the Council for Professional Recognition, can increase your job opportunities.
Directors
As a daycare director, you don't have as much contact with the children. However, the policies you put in place directly affect the quality of the children's care and what they learn. You talk a lot with parents about the day-to-day activities and progress of their offspring. You also hire and train child-care staff, includiing the teachers and other staff. Depending on your state, your educational background can range from a high-school diploma to an associate or bachelor's degree in early childhood education. Some experience is also necessary. You must make sure that your facility meets all your state's licensing requirements for child care.
Preschool Teachers
Preschool teachers teach a curriculum to children and provide care. They develop lesson plans to give their kids a well-rounded education that includes introductions to reading, math, motor and social skills. They also create schedules to ensure that children have time for physical activity and play. By keeping records of a child's progress, they can look for signs of developmental problems. If you're interested in this profession, you must have at least a high-school diploma in some states, and a college degree in early childhood education in others.
Special Education Preschool Teachers
Aside from handling all the tasks that regular preschool teachers manage, those in special education work with children who have learning, emotional and physical disabilities. They assess student abilities, help other daycare staff cope with special needs, and meet with parents, counselors and teachers to detail student progress. Some special-education preschool teachers work solely in special education classes. Others assist special-education children who are mainstreamed into regular classes. To become a special-education preschool teacher, you need at least a bachelor's degree. If you work in public schools, you also need a state certification or license.
References
Writer Bio
Aurelio Locsin has been writing professionally since 1982. He published his first book in 1996 and is a frequent contributor to many online publications, specializing in consumer, business and technical topics. Locsin holds a Bachelor of Arts in scientific and technical communications from the University of Washington.