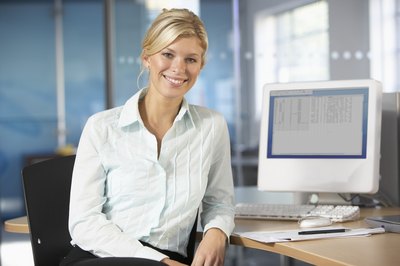 Databases house the valuable information that companies use to drive business and service customers. Database specialists create and maintain databases, including all of the ancillary tasks that accompany such a job. The job outlook is indicative of the importance of this position, with growth expected to be about 31 percent between 2010 and 2020, according to the U.S. Bureau of Labor Statistics. Salary is also an indication, with the median salary as of 2010 being $73,490.
Design and Build Databases
Database specialists gather user requirements, and design and build databases based on those requirements. Also called database administrators, these highly skilled people must also be able to communicate with both computer programmers and users alike in order to design efficient databases that meet users' needs.
Monitor and Tune Database Performance
The growth of a database can begin to test the original design, and poorly designed databases begin to slow down as more data is added. In order to spot trouble before it happens, database specialists must monitor database performance and tune the design to accommodate higher volumes of data. Sometimes this just means a small tweak, while bigger design issues may mean an entire redesign of the database.
Administer Database Access and Security
Database specialists are also responsible for administering access to the valuable corporate data. They must add users and determine the database elements that a given user may access. Most databases allow for very specific access control, even down to the individual field level of the data. This means that a database specialist can restrict a clerk to viewing only customers' names and addresses, but not their Social Security numbers.
Implement Backup and Recovery Procedures
Most companies cannot operate for long without access to their data. Therefore, it is imperative that databases are backed up so that in the event of a disaster they can be restored. These recovery procedures must be tested before a disaster occurs to ensure that they work. The database specialist is responsible for documenting and testing database backup and recovery procedures, so that the company can continue to operate in the event of a catastrophe.
2016 Salary Information for Database Administrators
Database administrators earned a median annual salary of $84,950 in 2016, according to the U.S. Bureau of Labor Statistics. On the low end, database administrators earned a 25th percentile salary of $62,350, meaning 75 percent earned more than this amount. The 75th percentile salary is $109,940, meaning 25 percent earn more. In 2016, 119,500 people were employed in the U.S. as database administrators.
Photo Credits
BananaStock/BananaStock/Getty Images