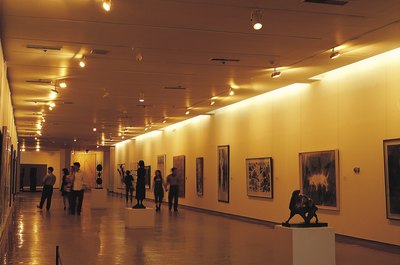 Curators are a curious kind of employee. A curator must be skilled in research, presentation and public relations, all while being an absolute expert in her field. As such, interviewing a curator can be a daunting prospect, as you wish to hire the ideal candidate who will help your collection prosper over many years. Successful interviews will focus on the education, experience and ambition of the applicant.
Inquire about her education. A curator should have at least a master's degree, and a Ph.D. in her relevant field would be ideal. Ask the prospective employee how her specific studies prepared her for the responsibilities of the job. You need an expert in her particular field; the first thing a good curator collects is knowledge.
Ask about her experience acquiring materials. One of a curator's chief responsibilities is to acquire new materials for the collection. If the interviewee has experience finding rare and exotic things, this makes her a great find for the job. Follow up with questions on how that prior experience will transition to the regular acquisition of new materials.
Get a demonstration of her presentation skills. Depending on the items, the public might not be thrilled to go see dusty tomes or ancient artifacts. A major part of the curator's job is to turn these things into an interesting exhibit that visitors will find intriguing and exciting. As such, her skills in presentation, style and public relations can all translate into skill as a curator. Follow up with questions on how she would turn some of the specific items in the organization's possession into an exciting exhibit. How would she display them? What would she tell visitors about them?
Delve into her research skills. Good curators don't just find and exhibit rare materials, they stay informed about the field through research. Ask her how she intends to stay informed about major changes to her field, and follow up with questions on how she might research additional information about items quickly and efficiently. Speed and quality must go hand in hand: Someone who spends days researching a single item may be so thorough it will slow down creating new exhibits.
Find out what her ambitions are. Does she want to retire as curator someday or maybe become become a museum director? Don't use this info to screen out ambitious employees, but to figure out if this person is the right fit as a long-term addition to your employees.
Photo Credits
Jupiterimages/Photos.com/Getty Images