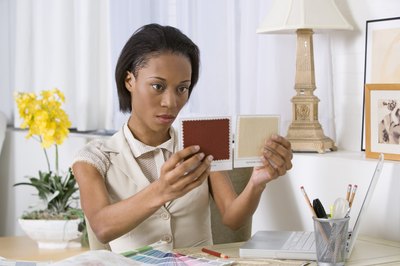 If you want to get real technical about it, there's a difference between interior decorators and designers. Both are good with decorating homes and offices but interior designers are trained and licensed by the National Council for Interior Design, or NCID. They have a degree and often need those credentials to land certain jobs. A decorator, on the other hand, is someone who is good with placement and colors and rarely needs to hold any kind of degree or certification -- although there are some available.
Work
Decorators earn anywhere from $30 to $75 an hour, according to "Today's Homeowner" and usually work directly for homeowners and occasionally may consult on office décor. You can find work through referrals from previous clients or work in a furniture store advising clients on the best accoutrements for their homes. Shoppers often don't know what they want and when you add your two decorator cents to the mix, they feel a lot more comfortable buying from you. On the other hand, you can work for yourself and supervise the artisans and tradespeople installing the chosen paint, carpet and décor in your clients' spaces. Many realtors estate brokers hire decorators to stage homes for sale to make them look more inviting.
Role
The role of a decorator primarily is to help homeowners and office managers choose colors. They may go shopping with the homeowners to pick out fabrics for the furniture and window treatments, pick out the carpets or rugs and make suggestions for placement of the furniture. Decorators often have a natural eye for what goes well together. Clients who don't feel that they can coordinate a bathroom rug with the new towels trust those instincts. Decorators usually work independently, but you may work under the license of a designer.
Association
Decorators have professional associations that provide them with training and credentials, which can only help to boost your credibility. You've got the Certified Interior Decorators International, the Association of Design Education and Painting and Decorating Contractors of America from which to choose, or go ahead and join them all. They all have national conventions, educational opportunities and plenty of networking affairs to advance your career.
Marketing
Most lay homeowners don't really know the difference between a decorator and a designer and don't really give a hoot as long as they like you and trust your judgment. You might advance your career, however, with more of those letters and credentials behind your name on your business cards. Get the C.I.D. certification from Certified Interior Decorators International and serve on the board of the A.D.E. or the P.D.C.A. The alphabet may open some doors to those clients who prefer to see some professional proof that you're serious about your work and not just a weekend decorator who thinks she can match a chair and a rug. At the same time, nothing beats referrals if you want to forego the classes and time it takes to earn the letters.
2016 Salary Information for Interior Designers
Interior designers earned a median annual salary of $49,810 in 2016, according to the U.S. Bureau of Labor Statistics. On the low end, interior designers earned a 25th percentile salary of $36,760, meaning 75 percent earned more than this amount. The 75th percentile salary is $68,340, meaning 25 percent earn more. In 2016, 66,500 people were employed in the U.S. as interior designers.
Photo Credits
Jupiterimages/Creatas/Getty Images