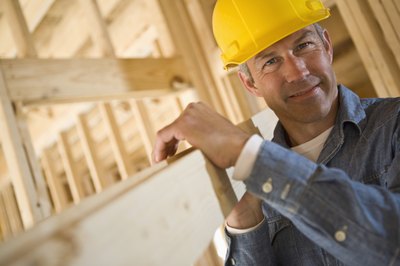 "General laborer" is a job title found in many industries. A general laborer is responsible for physical work, moving heavy items and using equipment when needed. The day-to-day duties of a general laborer vary based on the setting. Experience as a laborer as well as a high school diploma or general education diploma are typically required to get a general laborer position. Related training and certifications, such as those needed by a forklift operator, can also help a general laborer to get a job.
General Duties
In any setting, a general laborer is responsible for basic physical duties. These are usually manual labor tasks that require him to lift up to 50 pounds or more. He is responsible for loading and unloading necessary equipment or products, using heavy equipment if needed. While performing these duties, he also has to keep the job site clean.
Lawn Care
Working with a lawn care or landscaping service, a general laborer is responsible for loading and unloading the necessary equipment. He may perform routine lawn maintenance, such as cutting grass, raking and pruning trees or shrubs. To perform these tasks, he may have to operate equipment, such as a lawn tractor or aerator.
Warehouse
In a warehouse setting, a general laborer uses equipment, such as forklifts and pallet jacks, to move equipment and products. He restocks the shelves with product when needed. He also has to keep the work area clean and compliant with all safety guidelines.
Construction
On a construction site, a general laborer helps to remove debris and any possible hazards so that construction can begin.He unloads any building materials that will be needed at the site. He may have to dig holes and trenches with a shovel or using an excavator. If scaffolding, concrete molds or barricades are needed on-site, he will help to put them together and take them down.
Photo Credits
Comstock Images/Comstock/Getty Images