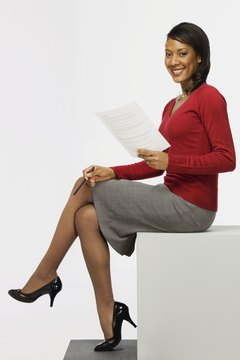 Submitting a list of professional references with your job application or resume can earn you bonus points with an employer. If he has this list, he doesn't need to waste time researching contact information for previous employers or contacting you to request references. When providing references to the employer, do not place them on the same sheet of paper as your cover letter or resume. Instead, attach them to your resume on a separate document. Make an enclosure notation after the closing of your cover letter, indicating that references are included.
Title your reference page in a large, bold, black font. Place the title at the top of the page using the "center" alignment. In the title, indicate your name and the fact that this is your reference list. As an example, type "Jane Doe Professional References."
Use 12 point black font for your reference list. Choose a universal font type, such as Arial or Times New Roman.
Use four to five lines for each reference. On the first line, list the name of your reference. On the second line, list the company he works for. List his mailing address on the third line. This can be a personal or business address. On the fourth line, include the reference's email address. Only add the email address if you receive advanced permission from your reference. List your reference's telephone number on the last line.
Align each reference on the left hand side of the page.
Add two line breaks between each reference. This ensures that the reference list is easy to read. It is not necessary to add line numbering or bullets to the list.
Photo Credits
Jupiterimages/Comstock/Getty Images