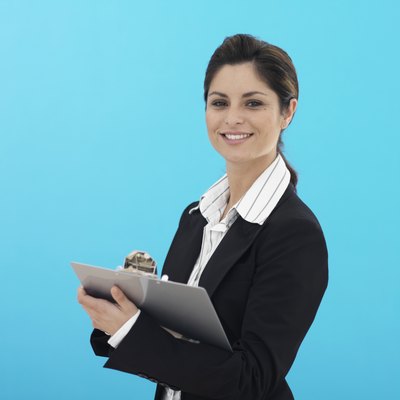 Entry level marketing positions are often as varied in responsibility and description as they are in the number of industries they occupy. Entry level marketers are referred to as specialists. They work under a manager and/or a director, and depending on the industry and type of company, will perform a wide range of tasks that other members of the team don't have time to manage.
Contacts
A big part of the marketing specialist's role consists of legwork. The marketing manager and director often enter into relationships with partners, vendors and suppliers who all have a stake in the current marketing plan. The specialist will send emails requesting logos and images, make calls to check on the status of the relationship and manage deadlines. Whenever a partnership marketing plan exists, the specialists must receive final approval of all artwork and initiatives. The partner must sign off before anything runs publicly, while the specialist is the one who spends time hunting down the concerned parties to get the job done on time.
Initiatives
Entry level marketing personnel are often charged with the creation and development of marketing initiatives. While the managers and above are responsible for coming up with the ideas, the entry level specialist is the one who does the back-and-forth communication with the graphic and digital artists to develop the content. Once the materials have reached a mature stage, the marketing manager will give input and sign off. Email blasts, scheduled mailings and flyer distribution all fall on the specialist, who receives guidance from the manager and director. The basic idea is for the specialist to handle the details of the process so the manager is free to work on other things.
SEO Maintenance
Entry level marketers are usually charged with monitoring and adjusting the company's various paid search engine marketing efforts. Search engine optimization is very important to businesses that want to stay near the top of the results list for consumers using search engines to find information about products. New marketers need to know how to research key words and phrases, and how to best distribute allotted funds to bring the best results. Marketing managers typically set the guidelines for expenditures and distribution, until the new hire demonstrates enough skill to carry on alone.
Copy
Marketing copy is a huge part of all advertising. It's present in print, Web and broadcast marketing, and is where the consumer finds your message and the information necessary to drive sales. Text is collected from a variety of sources including suppliers, corporate writers and lawyers, and reputable Web references. Marketing copy is then placed into every ad by the marketing specialist. On many occasions, the specialist will also be asked to add or remove content to suit a given piece. Over time, entry level marketing may develop a copy writing and editing specialty, which makes them more valuable to an employer.
Photo Credits
Stockbyte/Stockbyte/Getty Images