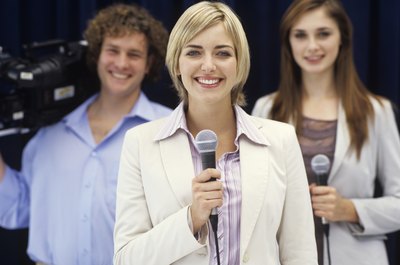 When you want a career in sports broadcasting or media, you need to have a demo reel that displays some of your best work. One way to present that information is to create a slide presentation that contains samples of your work and other information about your background and what you've accomplished. While it's more common to use video editing software to create your reel, presentation software will also do the trick. Most slide show programs allow you to embed short video or audio clips into presentations, allowing you to create a dynamic document that may be appealing to potential employers.
Create a new presentation using presentation software such as PowerPoint, Keynote or Corel Presentation.
Create an opening slide that includes your name and a recent photo. Use a professional head shot if you have one. Depending on your skill level with the presentation software, you can make each element appear or "move" on the screen to create a more exciting visual effect. In any case, select a font that defines you, and use a high-quality photo. You can also include your desired title, such as "Sports Announcer," under your name.
Create one or more "Sample Work" slides that allow the viewer to hear or see you in action. Throughout your career or career training, you should hang on to clips of you doing your work so that you'll be able to include professional clips here. Use a video or audio editing program to cut several clips of five to 10 seconds long, and then embed one file onto each slide. Include text on the slide which details the date and venue in which you did this particular sports announcing gig. These slides should appear close to the beginning of the presentation as they show you at work and are therfore some of the most important for showcasing your skills and experience.
Create a slide and title it "Career Highlights." This gives you the chance to highlight some of the information contained on your resume, including jobs you've worked and awards you've received. Choose three or four of your most noteworthy accomplishments and present them on slides in a bullet point list. Keep the information short and easy to read -- after all, your resume will likely be included in any job application you submit.
Create a "Testimonials" slide that includes short quotes from people who recommend your work. Ask former employers, co-workers or college professors testify as to the quality of your work, your character, your dedication or your professionalism, and then type their responses on the slides, remembering to keep the sentences short and easy-to-read.
Create a "Contact" page for the last slide, detailing your phone number, email address and any other pertinent contact information the viewer may need. While you're likely to include a detailed resume with your application, you don't want to leave anything to chance.
Review the presentation and have a few friends give you feedback about grammar, style and the overall flow of the presentation.
Export the presentation as a movie file and then upload it to a video sharing site such as YouTube or Vimeo, where it will be available for prospective employers to see.
Items you will need
Headshot photograph

Presentation software

Video or audio clips

Editing software
Tips
If you don't have any clips to use in your reel, you need to create some. Ask a friend to record you while you do a play-by-play, or set up a mock TV desk and record a fake game. Employers need to see you in action in order to know whether you have the chops for the job in question.

Set up your slide presentation for automatic playback so that each element of the presentation will play automatically and won't require the viewer to click buttons to view the entire presentation at once.
Photo Credits
George Doyle/Stockbyte/Getty Images