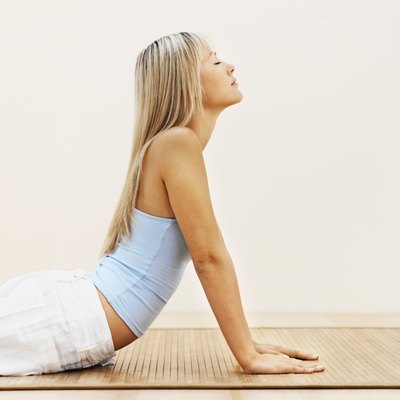 Yoga Booty Ballet (YBB) is an upbeat mind-body workout program. YBB is part of the Swerve studio brand, which focuses on uplifting yoga and dance blends. YBB blends traditional Eastern philosophy, movement and meditation with Western fitness and dance. According to the YBB site, the classes are broken up into three portions: yoga for flexibility and inner awareness, ballet for strength and agility and cardio for weight loss and endurance. Instructors can be trained in weekend workshops at the hosting sites in Los Angeles and Chicago.
Level 1 Training
Apply online at the Swerve studio website. The website will redirect you to a place you can sign up and pay online to secure your spot in the training.
Obtain 30 hours of yoga classes within 6 months. Prior to the training workshops, you are required to complete 30 yoga classes in a hatha, or physical, style. If you are unable to complete these classes beforehand, you will be given time after training to complete them.
Attend 3-day workshop in Los Angeles or Chicago. The workshop starts Friday and runs through Saturday and Sunday. Each day will last approximately 8 hours and will include several workout classes.
Pass the required written and practical exam. In order to become certified and licensed, you must pass a written exam based on the required readings and study questions and a practical exam based on the workouts you learn during the weekend.
Level 2 Training
Attend an additional 1-day, 7-hour workshop. After the weekend workshop finishes, you can stay an extra day for Level 2 advanced training to learn how to better teach your students wellness, motivation and physical strength and flexibility.
Learn additional anatomy and instructions. In the second training, you will delve deeper into anatomy, learning key concepts and muscles so you can better teach your students.
Learn meditation and techniques. In the second-level training, you will broaden your knowledge of meditation and affirmations to help your students find more peace and tranquility during class.
Items you will need
Change of clothing

Required reading

Pen and notebook

A fun attitude!
Tip
If you do not live in the areas, check the website for recommended lodging.
Warning
As with any exercise program, check with your doctor for any physical or health risks.
Photo Credits
Stockbyte/Stockbyte/Getty Images