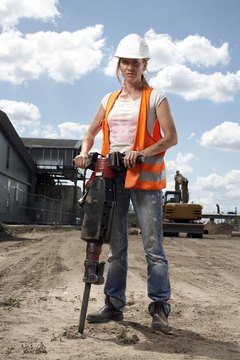 As of 2012, women made up only 6.4 percent of all construction managers in the United States, according to the Bureau of Labor Statistics. That makes it one of the most male-dominated management positions in the working world. Still, women are beginning to make more inroads as construction managers thanks to industry associations like the National Association of Women in Construction and the National Association of Home Builders' Professional Women in Building Council. Along with specialized training, some construction managers opt to obtain the Certified Construction Manager designation, also called the CCM certification.
Construction Manager Certification Institute
The CCM certification comes from the Construction Manager Certification Institute, an arm of the Construction Management Association of America. The CMAA created both the CMCI and the CCM certification to set standards in the construction management industry. The CCM certification provides a way for construction managers to show clients they are qualified to oversee construction projects according to best practices.
Education
The first step in earning the CCM certification is fulfilling the educational qualifications. A construction manager can choose from three options to fulfill the eligibility requirements. The first option is a bachelor's or graduate degree in construction management, construction engineering technology, construction science or architecture. Other qualifying degrees include chemical, civil, electrical, industrial, mechanical or architectural engineering. The second option is an associate's degree in one of the qualifying degrees and four years of experience in construction. Applicants without a qualifying degree can opt for the third option, which is holding any bachelor or master's degree and eight years of experience in construction.
Qualification Matrix
To determine whether or not a candidate has the right types of construction management experience, the CMAA uses a qualification matrix. The matrix features six construction management roles and five construction phases for a total of 30 experience areas. Applicants must have a total of 48 months of experience in at least 15 of the 30 experience areas. Management roles include project, cost, time, quality, contract administration and safety management. The five construction phases are pre-design, design, procurement, construction and post-construction.
Exam
After completing the eligibility and qualification processes, the applicant takes the CCM certification exam. The certification exam takes five hours to complete, consists of 200 multiple-choice questions and requires a score of 65 percent or better to pass. Candidates can take the exam at computer-based testing facilities located throughout the country. To prepare for the exam, candidates should look over the CMAA's "CM Standards of Practice" and CII's Best Practice's Guide "Improving Project Performance IR 166-3." The CMAA also offers a CM Standards of Practice Study Kit. Along with an application fee, candidates must pay an exam fee and an exam retake fee if they do not pass on the first try.
Photo Credits
Rainer Elstermann/Lifesize/Getty Images