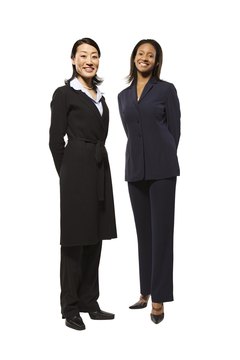 Give your career a boost by enhancing your workplace professionalism -- your boss will be more likely to think of you when it comes time to staff a special project or fill an upper management position. Project professional through your appearance, behavior and leadership when crunch time hits. Approach becoming more professional as a marathon, not a short-distance sprint.
Dress professionally for the job you want, not the job you have. Supervisors should think of you as always presenting a professional appearance, so err on the side of being conservative with muted colors.
Carry out professional courtesies, like sending hand-written thank you notes to clients and coworkers. Seeing to such often-by-passed details will make a good and lasting impression, helping you build strong business relationships.
Take initiative when a problem presents itself, whether it's starting a positive discussion when a meeting is late getting underway due to pending arrivals or stepping up to lead the team when a crisis strikes.
Advocate your positions strongly with clear, concise reasoning. Respectfully disagree with your boss or others when you think they are going in the wrong direction. Follow Dale Carnegie's advice and phrase your dissent as a question rather than a confrontation. For example, "That is an effective solution, however, I am concerned that it may experience problems under certain circumstances. Do you think that's something the project may face?"
Set a strong example for punctuality, organization and integrity. Admit making an error when you make one, learn from it and put forward your own solutions. Build yourself into the team member that others look to as leading by example.
References
How to Win Friends and Influence People; Dale Carnegie
Photo Credits
Jupiterimages/Comstock/Getty Images