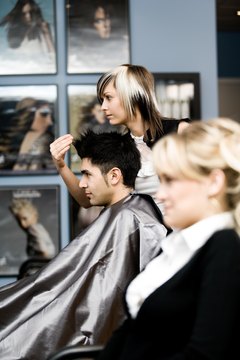 Some people love to style hair in their spare time. They're often giving family members and friends hair trims, coloring their own hair, helping create updos for special events or flipping through hairstyle magazines. Hairstyling is a potentially lucrative career. With natural talent, proper training and a state license, someone who styles hair for fun can soon style hair as a career.
Take classes at local community centers or talk to a hair stylist to determine if you want to commit to schooling and a full-time career.
Enroll in a hairstyling school. Programs typically last about two years, but may be able to be completed in a shorter time. There are numerous hair styling schools and some community colleges offer cosmetology programs. Most hairstyling schools require a high school diploma or GED.
Earn your state board license. Typically, hairstyling schools will help you prepare and apply for the exam, which usually includes both a written and practical component.
Apply for a job. Equipped with the proper training and a state license, you can begin your job search. Some stylists begin as shampooers or hair assistants, then work their way up.
Photo Credits
Jupiterimages/Photos.com/Getty Images