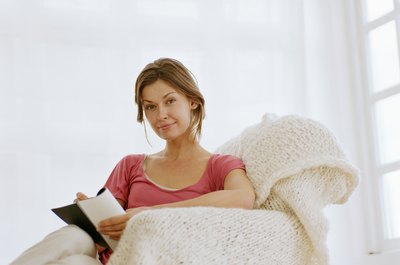 Making the decision to become a contributing writer can be a highly rewarding and lucrative way to build a journalism career and promote yourself as a thought leader. By contributing your ideas and knowledge, you can also educate and help others in far reaching ways. If you have a small business, you can also earn yourself more press and exposure to your target market. Chances are, you have a lot to share with the world, so take the time to learn how to become a contributing writer the right way. Plus, you can earn some extra cash, as much as $26 per hour, according to the U.S. Bureau of Labor Statistics. To get started as a contributing writer, there are a few steps you can take to successfully pitch yourself to the right networks and land excellent assignments.
To become a contributing writer, you will first want to focus on ways to develop your professional image as others will eventually see you – as an expert thought leader. This can be tied to your career or personal background, the unique hobbies or interests you regularly participate in, or any area in which you have received specialized training and education. Use this to build your persona online and offline. Your persona is what grabs the attention of potential publications that will consider you for becoming one of their contributing writers, so make it count.
Start getting to know what's trending in your focus area by researching the blogs, magazines, newspapers and other publications out there. You can use Google Trends or social network trending sources like Digg.com. Read the articles and reports, learning more about the tone and style of writing. Check out the career page and find out if the publication accepts unsolicited pieces. Learn more about its writing guidelines and find out if the writing is paid or unpaid. Doing these things now can help you to have a better chance of successfully pitching ideas for writing assignments and getting them accepted sooner.
Now that you have a list of possible publications to contribute writing to, it's time to start pitching your ideas for future articles. Take a look at what's trending in your industry or interest and come up with at least 10 hot topics. Then write out some attention-grabbing headlines about those topics. Draft up some supporting documentation or a few sentences about the angle you would like to write about. Then include a sample piece and even an image that is relevant to the topic you are hoping to write about. Email this directly to the managing editor of the publication. It's important to note that some publications will offer suggested topics or a seasonal editorial calendar, so use this as a guide before pitching your ideas.
Now, it becomes a waiting game as you anticipate hearing back from the editor about your ideas. Keep in mind that editors get hundreds of contributing writer pitches just like yours every week, so it may take some time to hear back. Don't let this wait discourage you and instead keep pitching to this and other publications with fresh writing ideas, on a weekly basis. You can also offer to write guest blog posts at no cost, which can often appeal to the social media manager. Once you have had your idea accepted, promptly respond and send a first draft by the deadline to meet your commitment. Then follow up frequently to write more in the future as a contributing writer. Your goal is to get on permanently as a contributor.
Items you will need
Strong desire to educate and inspire readers through the written word.

Above average writing and research skills in your specialty area.

Several well-written articles or an online portfolio demonstrating your expertise.

Willingness to connect with others in your field of interest.

Ability to write a piece on spec or be interviewed as a contributor.

Well-developed professional biography statement or byline.

Flexibility to commit to occasional or ongoing writing work.
Tips
Develop several key sample articles to use when pitching to potential publication sources.

Write your contribution according to each publication's requirements to get asked to write again.

Use an Excel spreadsheet to track your contacts, ideas pitched, when they are accepted and published.

Don't let rejection bother you as it's a natural part of the process and a future pitch will be accepted.
Warnings
When submitting writing work, be sure it is 100 percent error free and your original work.

Find out if you will be paid for your contributions and obtain a written agreement to the terms.
Photo Credits
Nick White/Digital Vision/Getty Images