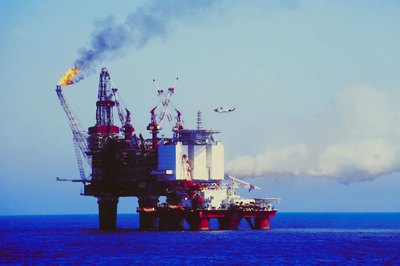 Pulling up to the pump, you fill up your car, groan at the price of gas and if you're lucky, remember to close your gas cap before leaving -- all without giving a second thought as to where that gas comes from. From rig workers to inspectors to engineers, petroleum workers serve behind the scene to bring us the oil and natural gas that fuels our cars, heats our homes and keeps us moving. Typically male-dominated, of the oil industry's new hires in 2013, nearly 46 percent were women, according to CNN Money.
American Petroleum Institute
Because of the often dangerous nature of the oil industry, the government requires companies to undergo inspections of the various parts of the oil process, from pressure vessels to piping, to help keep workers and the general public safe. The American Petroleum Institute, the only national trade association in the industry, sponsors several quality control inspector certifications. Once earned, certification shows potential employees that an inspector has completed advanced training and has the know-how and credentials needed to fulfill the job.
Choosing a Certification
Depending on the type of inspecting she expects to do, the inspector can choose from the API's five inspector designations. API inspector programs include Pressure Vessels Inspector, Piping Inspector, Above Ground Storage Tanks Inspector, Welding Inspector, and Metallurgy and Risk-Based Inspector. Candidates can opt to obtain one or more of the API certifications, which correspond to the various parts of the petroleum industry.
Qualifying for Certification
The first hurdle in earning an inspector certification from API is fulfilling the eligibility requirements. A candidate must have a combination of education and experience, which varies depending on the type of certification. For example, the Welding Inspector Certification and Metallurgy and Risk-Based Inspector Certification applicants must have one year of experience in the petrochemical industry and a bachelor's degree in engineering; two years of experience and an associate degree; or three years of experience for those with just a high school diploma. Candidate opting for a Pressure Vessels, Piping or Above Ground Storage Tanks certification must meet the same qualifications, but must also be currently employed with an inspection company. Candidates must fill out an application and pay application and exam fees.
Passing the Exam
Passing the eligibility requirements is only part of the certification process. Candidates must also take and pass a multiple-choice certification exam, proctored at third-party computer testing centers located throughout the country, as well as the world. The API provides a "Body of Knowledge" document for each type of certification that outlines what the test covers. While the API does not offer training materials, it does provide a list of outside training resources that test-takers can use to prepare for the exam. Every three years, the inspector must reapply for certification, which means simply submitting a renewal application.
Photo Credits
Ablestock.com/AbleStock.com/Getty Images