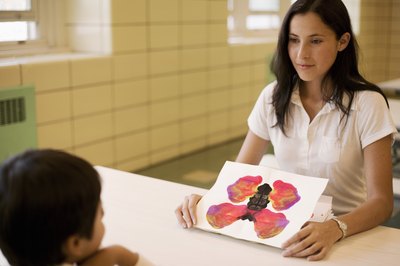 Pediatric occupational therapy is a rewarding career that focuses on the rehabilitation of children with mental and physical disabilities that impede their ability to perform routine life tasks. Like many health care professions, the U.S. Bureau of Labor Statistics reports that the demand for occupational therapists is expected to increase by 33 percent compared to the average job growth between 2010 and 2020. Pediatric occupational therapists may be employed in numerous settings, including schools, pediatric hospitals and private practice clinics. The work environment and career opportunities available in this field make pediatric occupational therapy an excellent career choice if you love children and have a desire to help those in need.
Choose an undergraduate major in the social sciences, behavioral sciences or child-development areas. Though many occupational therapy programs do not dictate which undergraduate programs of study students should complete, choosing an undergraduate degree that you are passionate about can provide you with alternate career opportunities, as well as talking points for your occupational therapy applications.
Research occupational therapy programs that offer specialties or clinical experience in pediatric occupational therapy. This step is crucial, since not all occupational therapy programs are created equally and some are better equipped to provide you with training in pediatric occupational therapy than others. When deciding on a program, look at the public profiles on their faculty and staff. Programs that employ pediatric occupational therapists, or that advertise connections with a pediatric occupational therapy clinic are likely to have pediatric training options for their students.
Complete any additional work required by your top occupational therapy programs that is not already included in your undergraduate degree. This may include taking additional prerequisite courses, completing the Graduate Review Exam and earning service hours under the direction of a licensed occupational therapist.
Apply to and complete a master's degree in occupational therapy. As you are applying to occupational therapy schools, discuss your intentions of pursuing a career in pediatric occupational therapy in your application and interview with your instructors.
Contact your state's board of medical examiners for information on earning and maintaining your license to practice occupational therapy after graduation. Though each state has its own unique laws for occupational therapists, all states require occupational therapists to register with, and be licensed by, the state board of medical examiners prior to practicing.
Tip
Consider applying to multiple occupational therapy programs after completing your undergraduate degree. Admissions to occupational therapy programs can be very selective, so applying to multiple programs can increase your odds of being selected.
Photo Credits
Creatas/Creatas/Getty Images